I have just put a new development release of ModelConverterX online. The main change in this version is that it is now possible to visualize special effects in the 3D preview as well. So if you are placing such an effect, you will be able to preview how it is going to look in FS. Next to the paperclip button that toggles the display of attachpoints, you will find a new button now that toggles the display of the particle effects.
Since effect files reside in the effects folder of your FS installation, it is important that you make sure that the path to FS is set correctly in the options. The FS paths have moved from the texture settings to the FS related settings of the options in this new version. If your registry keys for FS are valid you don't have to set it manually by the way.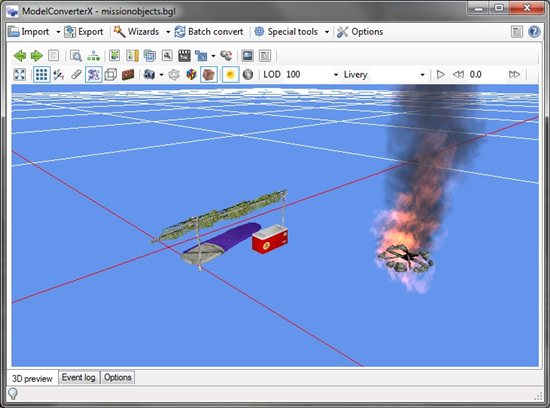 Please be aware that this is a first beta release of the particle effect functionality. I tried to make the rendering of the effects as close to the way FS renders them, but I am sure there are still some bugs in there. So let me know if you have problems viewing certain effects or if you feel that the dynamics of the effect are wrong.